Store Configurations for Retail Showrooms
---
Cash Wrap Configurations - All-in-One Store Counters for POS Checkout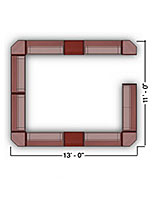 How can integrated cash wrap configurations promote sales in a retail showroom? For one, this modular checkout island provides a functional space in which to house and display merchandise prior to checkout. For another, this showroom cabinetry features a stylish all-in-one design that eliminates the guesswork for busy retailers looking to outfit a store with quality store configurations, also known as showroom counters. Display merchandise to best advantage on glass shelves, and house overstock in commercial cabinets and slide-out drawers. These top quality fixtures include a register stand for checkout, and complementary straight and corner displays, giving shop owners everything needed to set up a full-service sales counter without the hassle of having to combine separate units. These POS cash wrap configurations include economical alternatives constructed with less expensive materials that still look as professional as their higher end counterparts. What's the benefit to customers? These affordable retail store configurations make point of sale purchases a breeze during check-out, with a cohesive layout. These systems ship broken down to save on shipping costs, yet it's easy to assemble. Each of these cash wrap configurations that are merchandising counters include four corner units, a register stand, and four commercial showcases with a locking white hardboard slider doors. A recessed kick base prevents scuffing.
What distinguishing features does this quality line of POS store configurations offer? What makes them stand out?
Cash wrap configurations combine POS stations with showcase displays for all-in-one functionality.
Quality finishes including silver brushed aluminum, maple, and cherry, add style to any showroom decor.
Configurations range from nine to nineteen pieces and can suit all types of store environments.
Widths from 69" to 480", & adjustable shelves easily store varied sizes and types of merchandise.
Triple-strength tempered glass shelves provide a safe & durable way to showcase goods for sale.
Placing new goods near the register stand for display encourages customers to make a last-minute purchase while checking out the items they have already selected, boosting sales! Another way to make money is by saving money - these store counters for retail come in lower cost price points when a laminate material is used, such as low-pressure melamine, which is not as durable as kitchen countertop-grade Formica™ but many store environments tend to be gentler and so that level of durability is not required.
The business savvy retailer loves our economy line which does not sacrifice looks and style for savings but maintains both. An inexpensive sales counter system with a register stand and modular display components is one of our great POS solutions, whether displaying jewelry, sunglasses, time pieces, perfume, or works of art in a boutique, mall, or museum environment. These quality point of sale solutions allow customers to pay for their items, while displayed wares are still visible in case they want to add to their purchases last minute. An all-in-one combination of checkout station and cash wrap systems encourage customers to add to their order last minute, driving sales up. In addition, your cost to purchase these commercial cabinets is reduced because units are shipped broken down. Buying modular units that fit together effortlessly is far cheaper than buying single units and then trying to figure out how they might work together.
This compact configuration of this system belies a large storage and display area. Buy integrated cash wrap systems that provide a flawless visual in your retail showroom, while giving merchandisers ample ways to interact with customers efficiently. When implementing a design for your showroom, use sturdy cabinetry solutions that come in myriad sizes for every type of point of sale store and merchandise. These sales counter systems can host up to seven different check out stations but they are also available in narrow dimensions with a smaller footprint. This website knows how to provide customers with lots of options in terms of style, material, and price!