Wall Mounted Display Cabinets for Trophies & Collectibles
---
Wall Mounted Display Cabinets - Curio Cabinetry with Adjustable Shelves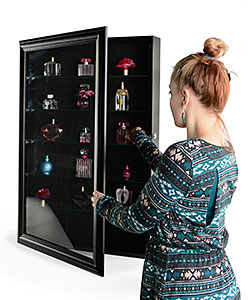 What is the best placement for these wall mounted display cabinets? These trophy cases can be hung virtually anywhere, in a retail venue, in a home, or in an office. Each of these glass showcases features shelving for a memorabilia or merchandise collection. These fixtures put the spotlight on antiques and small decorative items, such as shot glasses, dolls or china cups, as well as shop merchandise like cosmetics or giftware. These shelves for collectibles are constructed of wood or metal, in a multitude of finishes. Some of these wall mounted display cabinets include spotlighting for extra emphasis on certain objects; locks for security; and a variety of shelf and door configurations (of course, some box units come without doors). A myriad of sizes are available for residence and retail use - larger sizes with more shelves can hold a massive array of merchandise or shot glasses without taking up valuable storage space! These wall mounted display cabinets, like curio cabinetry, do even the finest valuables justice. Used as trophy cases, these accessories can be featured in a hotel's lobby, a house's living room or a school library to promote scholastic and athletic achievement.
What styles of quality showcases are highlighted in this category?
Each of these wall mounted display cabinets offers beautiful and secure housing for fine objects of art, antiques, or merchandise, in a variety of styles and shelf configurations, in various wood and metal finishes to suit both traditional and contemporary décor, with or without architectural flourishes.
Simple box wall show cases with adjustable, mirrored backing and tempered glass shelves are an affordable way to present small memorabilia, such as antique dolls or shot glasses. Shelving is adjustable to accommodate different sizes, or can be removed entirely for showing military and sports flags, or t-shirts.
Aluminum retail display cases with acrylic panels, shelf systems, sign standoffs, and anchors, are a sleek, unique, and modern way to feature smaller objects, with a convenient side-loading design.
Cabinets with a curved front and halogen top lights, a power switch with electrical cord and sliding glass doors that lock, add interest to modern collected objects and fragile merchandise. These come in black or silver laminate, oak, mahogany, maple, cherry and rose wood finish with a mirrored back panel.
Extra-wide units for merchandisers or collectors of extensive memorabilia work beautifully in retail stores to highlight jewelry, glasses or cosmetics, featuring 20- and 40-watt halogen top light configurations, a mirrored back, a tempered glass shelf system, sliding or locking doors.
Models by renowned designer Howard Miller feature curved or straight arched pediments, reeded side columns, dentil molding and no-tip bases, and glass fronts, giving any showcase traditional flair and a timeless look to house antiques and china.
These wall showcases can brighten a collection of models and collectibles in homes or high end retail outlets like antique stores. All of our hanging curio fixtures for memorabilia have durable exteriors and tempered glass shelving that stand the test of time. Beautifully and thoughtfully designed and constructed, these glass showcases demonstrate unparalleled craftsmanship and elegance against the competition's offerings, all at a surprisingly affordable price point. These retail display cases are suitable for retail and home environments where curio of value, such as shot glasses, are displayed. Trophies and treasures are kept secure behind tempered glass, some with locking doors to keep expensive or unusual items safe from theft or damage. These mounts that are trophy cases are available in black or silver metal, as well as a beautiful wood finishes including oak, maple, cherry, and rosewood.
Our esteemed Howard Miller collection features intricate wood carving and molding, arched pediments, molding, and fluted columns, which accents the décor beautifully. These wall showcases come in a wide array of sizes and shapes to fit any home, office or retail showroom and will support all manner of merchandise and collectibles. When selecting trophy cases to mount, choose different shelf and lighting configurations to really draw the visitor's eye to your collection. A multitude of designs are available from curved, angled, to rectangular shapes. Browse glass curio cabinets with different shelf configurations and lighting schemes, construction materials, and periods - in traditional or contemporary styles. These hanging fixtures with tempered glass shelves draw attention to treasured collectibles in a home, office, or school setting, keeping them protected and safe without taking up space on floors and counters.