Display Cases for Collectibles | Collectors' Stands and Shadow Boxes
---
Collectible Display Cases with Clear Acrylic or Glass Covers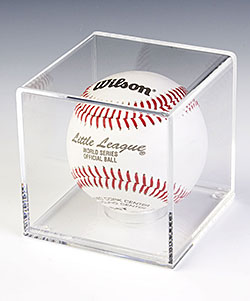 Need a way to feature small items like baseballs, action figures, awards and dolls? These display cases for collectibles are built to host any manner of curio from mini helmets to die-cast trains. They can also be constructed to hold folded flags and medals. What styles of display cases for collectibles, or model showcases, are offered? These are divided into (4) unique listings: acrylic dust covers, flag memorials, countertop stands and wall hanging shadow boxes. Display cases for collectibles can be used by seasoned collectors or everyday hobbyists. Exhibits like these help protect antiques and sports memorabilia from dust and fingerprints. Some have locking or security features for preventing theft.
What types of model showcases are offered?
These display cases for collectibles are available as plastic dust covers that are lighter in weight and durability.
Wood frames for folded flags come in a variety of finishes and may come with an extra area for documents and medals.
Countertop holders have an acrylic or MDF framing for featuring merchandise or shot glasses.
Wall hanging shadow boxes are made of wood, fiberboard or plastic and can show off jerseys, mementos and even dolls.
Display cases for antiques and curios look great in any environment. These selections can be used in homes, offices, classrooms or in retail stores. Personal collectors can use plastic dust covers if they are simply looking for a way to draw attention to sports memorabilia while keeping it free from dirt and moisture. Shop owners may find the selection of countertop holders more to their liking as they have a sturdy construction and a locking design. Flag frames make great gifts for remembering a veteran's service and will blend in on any shelf or mantel. Shadow boxes for collectors can also complement residential and commercial environments with their simple motif.
Triangular display cases are a popular accessory for honoring tri-folded flags that are presented at funerals of service members. Our beveled glass model showcases for ensigns come in oak, black or cherry finished real wood. Along with these, we also offer risers for additional height.
Polystyrene dust covers are an ideal solution for displaying awards or larger antiques. Unlike the acrylic display cabinets for collectibles, these curio accessories are built for larger and more valuable pieces of merchandise.
What is the difference between injection molded polystyrene and hand-crafted acrylic?
Injection Molded Polystyrene:

Lowest cost type of plastic
Thinner and generally more brittle than acrylic
Likely will have a slight bluish haze
Visible markings from where the plastic leaves the mold
Polystyrene is the most inexpensive plastic option

Hand-Crafted Acrylic

More longstanding
No bluish haze, has clean and clear edges
No relief markings, each piece is handmade.
This type of acrylic construction the most expensive of the plastic options
Cases like these can be used for displaying anything from antiques to sports memorabilia. They can make simple items like footballs, basketballs and jerseys more presentable while protecting them from the elements. Display cabinets for collectibles are also great for merchandise in retail stores. Countertop model showcases with a full view design allow customers to easily see their contents from any angle or distance. They can be used for featuring glasses, cameras, handbags, jewelry or items for collectors. These accessories can include a lockable design for securing valuables in high traffic environments. They may also come with top halogen lighting for illuminating curios. Fixtures with rotating shelves are great for attracting customers with extra visibility. Get same day shipping and quick delivery when buying online at Displaycabinets2go.com!