Cash Wrap & Checkout Stands | Black, White, Maple, Cherry & Silver Counters
---
Cash Wrap & Checkout Cases, Drawers, Corners and Configurations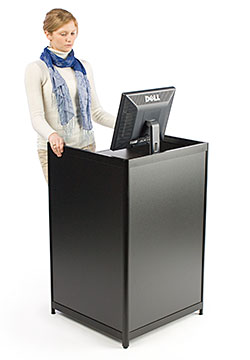 Looking for a high quality customer service station that will fit in with any establishment? These
cash wraps and checkout stands
are functional and have a modern fabrication. Any retail outlet will benefit from these commercial display cases that attract customers with their noticeable appearance. While cash wraps and checkout stands are great for holding cashboxes, they can also be used to feature merchandise right at the point of sale. This makes it easy to create impulse purchases or protect valuable wares from theft with their proximity to employees. Cash wraps and checkout stands, also known as sales counters, are ideal for a variety of commercial venues with their modular design. These store fixtures are available as full configurations or as individual units that fit together.
Where can these sales counters be used?
Cash wraps and checkout stands are often used by collectibles shops to advertise high value items without risking damage from customers. They can be used to show sports memorabilia, model cars, fine china, antiques, classic toys, rare books, trading cards and much more.
Jewelers use these cabinets as a way to show off custom designs and other pieces, while still keeping them safe under lock and key. Necklaces, handbags, hats and other accessories are ideal for these showcases.
Private collectors who want to exhibit their collection could also use these cash wraps and registers to feature their curios.
A retail outlet of any size can use these sales counters as a wall between employees and customers. They can exhibit electronics like cameras and phones, consumables like cigars and packaged foods, and accessories like fine watches and high quality writing utensils.
Entertainment outlets for kids and adults often use these racks to give prominence to prizes that can be won for tickets. This ranges from toys and novelty items to expensive rewards like video game consoles and guitars.
These store fixtures can have one of five different finishes: maple, cherry, black, white and silver. The variety of available shades means that these showcases will match many different types of existing furniture, and can adapt to a wide variety of locations. Some models include a custom graphic that can be used to display company logos, branding information and other messaging. These cases come with a user-designed image panel that is easy to mount on any compatible store fixture.
What options are available when purchasing these sales counters?
Full configurations of cash wraps include between 3 and 19 separate cabinet pieces. For storeowners that want a pre-defined retail layout, these kits make it easy to create a functional customer service station. Available configurations include enclosed rectangles, corner setups, longer sets for placement against walls and "S"-shaped arrangements with (2) enclosed areas.
Alternatively, each commercial display case can be purchased individually. Components measuring up to 44" wide include corner pieces and thin cabinets for cash boxes. These models are usually used for connecting larger modules together, but they can also be used by themselves.
Furniture with a measurement of 44" to 48" is also sold individually. For the most part, these are display showcases that feature a full- or partial-view design. Merchandise placed in these will be easy to see by customers, and in units with a lock, protected from theft. Some racks with this measurement include a graphic panel for user-created artwork.
Cases measuring 60" to 72" wide are also available. While these large models often make up the "walls" of retail configurations, they make ideal cash wraps and merchandisers when placed alone. Their large size is easy to notice and is great for accommodating large quantities of goods. Units with a 60" width are also available with custom graphics.
These cash wraps and registers are made to last and are constructed of strong materials. All frames have a laminated particle board fabrication while many pieces have additional aluminum supports. Each clear shelf and countertop is made of tempered glass that is both transparent and incredibly strong. The translucent green edges create a distinctive look that adds extra style to any setup.