Glass Cabinets with Locking Doors & Laminate Finishes
---
Glass Display Cases for Retail Stores and Exhibits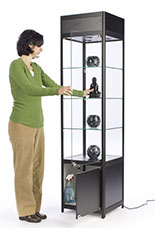 Which style of commercial cabinetry is best for showcasing small or valuable merchandise for sale? Glass cabinets, when placed in the center of a room offer full vision views of collectibles and merchandise. Sized narrow, mid-size, and wide, minimalist curio displays such as these can be purchased in bulk to outfit an entire showroom, or individually for boutiques or art space. Most of these decorative glass cabinets, also known as retail display cases, have wheeled bottoms for mobility, a locking door for safe storage, and halogen or LED illumination for drawing attention to an object of an array of featured products. Adjustable shelves within the unit are removable for custom presentations. A compact narrow design frees up floor space in boutiques and museums and other exhibition spaces. Display delicate jewelry, fragile artifacts and antique heirlooms, photographs, trophies, and hand-crafted items that draw attention from any angle.
Glass cabinets, also known as curio displays, offer optimal viewing when placed in the center of a room, or set them up in a corner, depending on traffic flow and exhibit type. Cabinetry showcases, like commercial furniture, have a modern, minimalist design that creates an open feeling in showrooms, museums, galleries, and gift shops. Emphasize visuals with these durable and secure tempered glass cabinets. Each of these quality curio retail displays is made of low-cost medium-density fiberboard with a quality laminate finish. Whether selecting a narrow tower showcase or a wide one, exhibit materials are enhanced by clear framing and shelving.
What are some of the stand-out display features common to the commercial cases in this cabinetry collection?
Modern stands with clear shelving provide 360° viewing in business and gallery spaces. Highlight fragile jewelry or accessories, trophies and artifacts in cases that are visually accessible from all sides. Their modern tempered fabrication withstands use far better than conventional alternatives, so they are safe to place in high-traffic showrooms and galleries.
Sizing is flexible, so merchandisers will find what they're looking for, from rectangular, to square, to circular styles in narrow and wide widths. No matter what size is chosen, this commercial curio display with shelves offers extensive storage for stock, without taking up much of a footprint.
Retail fixtures feature a painted medium-density fiberboard or laminated construction that keeps the price point low, while providing a durable and attractive holder for wares and exhibition items. Each of the models in narrow, mid-size, or wide are offered in MDF covered in beautiful laminate in eye-catching modern design with finishes including black, white, silver, oak, maple, cherry, wenge, and rosewood.
Typically, these curio showcases with clear panels and shelves plus locking storage are used in art galleries for highlighting fragile artifacts. Gift shops in modern museums, hotel lobbies, and hospitals present toys, jewelry, glassware and pottery, toys, and more. Museums will use these fixtures to display estate pieces and antique heirlooms, model cars, toys, and antiques. Schools, colleges, and universities are optimal places for these decorative models when showing off sports team trophies, helmets, jerseys, and awards, seasonal decorations, and presentations of student crafts. Collectors purchase cabinetry for home use as well.
Height-adjustable shelves allow placement of a variety of types and sizes of curios in stores where a constant stream of new merchandise flows in. A collection of goods can be showcased according to size, or shelving can be removed, putting all the focus on a singular artifact. Each shelf is made of full view tempered materials for maximizing visibility from any angle. Retailers can create custom presentations using shadow effects in commercial settings with tilting top and/or side halogen lighting for small, hard-to-see merchandise and crafts, and a convenient electrical cord. Some models in this commercial cabinetry line include a mirrored deck to add drama and make merchandise more visible. Locking doors create a safe space in which to store personal items and expensive overstock.
Select a curio display from rectangular, square or round styles in narrow and wide configurations that feature storage, but have an economical footprint. Tall, rectangular stands with shelves measures 20.5" or 24"w. Round towers have an eye-catching, modern design that attracts visitors to merchandise for sale or exhibits on display. This commercial circular cabinetry is 76"h, 22"d. Square units have a melamine frame, are compact, and sized 15" to 24"w. Choosing quality exhibit stands for a gallery is a no-brainer with clear displays that put the focus on what's being shown, no matter what part of a showroom a visitor is standing in.